Resources for building the smt CI-V interface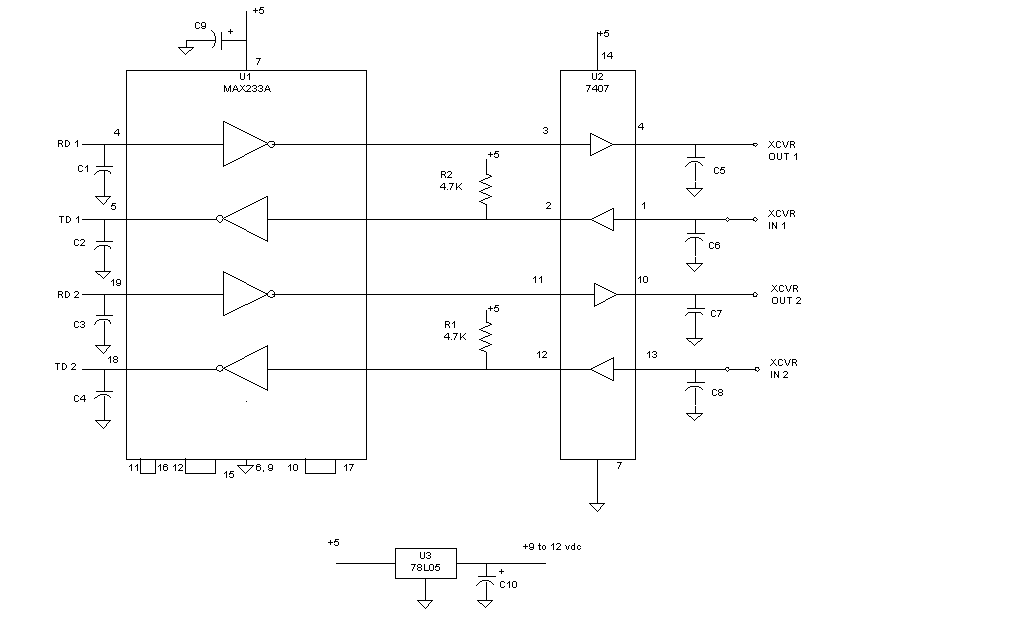 | | | |
| --- | --- | --- |
| Part Designation | Description | Digi-Key part number |
| C1, C2, C3, C4 | .01 µf 50v ceramic 1206 size | PCC103BCT-ND |
| C5, C6, C7, C8 | .000470 µf 50v ceramic 1206 size | PCC471BCT-ND |
| C9, C10 | 1 µf 25v tantalum | PCS5105CT-ND |
| R1, R2 | 4.7kohm 1/8w 1206 size | P4.7KECT-ND |
| U1 | MAX233A (SO-20) | MAX233ACWP-ND |
| U2 | 7407 (SO-14) | DM7407M-ND |
| U3 | 78L05 (SO-8) | LM78L05ACM-ND |
Notes:
1. Board is capable of separate TTL input/output which is used by some transceivers. For use with Icom CI-V, connect the XCVR OUT to the XCVR IN using the pad provided and omit C5 or C7 as appropriate.
2. U1, U2, R1, and R2 are mounted on the top of the board. All other components on mounted on the bottom.
PC board top view here.
PC board bottom view here.
---
Visitor number